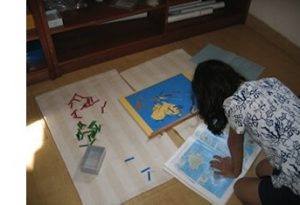 Studies cover world cultures in greater depth; customs, housing, diet, government, industry, the arts, history and costume. Your child will learn about the richness of their own and their friend's cultural heritage.
Culinary dishes from all over the world are prepared and enjoyed. Traditional folksongs, dances, music and folk craft are explored. Your child's learning often culminates in experiencing marvellous annual international holidays and festivals, such as United Nations Day and Chinese New Year.
Specially designed maps help your child learn about the world's continents, countries and capital cities, national flags and anthems. Physical geography studies cover the formation of the universe and earth, the emergence of oceans and atmosphere, and the evolution of The Earth. The world's rivers, lakes, climatic zones, mountain ranges, and natural resources, are also studied.