Our Vision :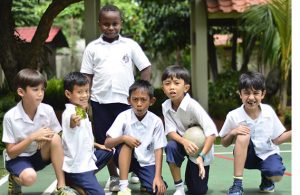 Jakarta Montessori School provides a respectful, nuturing Montessori environment where children can reach their full potential, becoming life long-learners, and global-citizens.
Our Mission :
To create a learning environment that caters for the needs of the individual children's holistic development.
To inspire children, to strive for excellence in all aspects of their lives.
To help children gain the qualities needed to be caring, compassionate leaders in whatever field they choose and to equip them with not only knowledge but love of the world in which they live.
To encourage children to become lifelong learners who acknowledge and celebrate the differences between people both nationally and globally.
To have a student body that reflects all walks of life and has a national as well as a global perspective.
To create a school that is an inspiration to all educators.