Toddlers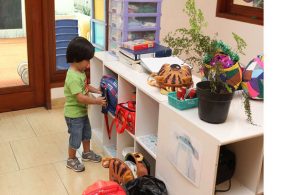 Our Toddler classroom is a world in miniature, suitable for young children from the ages of 18 months to three years. They feed and serve themselves, and play by themselves. Our teachers aid your child's development by showing them how to accomplish all these things.
Language is of great importance at this age, when your child is absorbing the environment around them. Thus, the Toddler classroom is a very language rich environment with our teachers explaining to your child all they are doing in simple and clear language. In this environment your child will quickly develop a wide ranging and solid vocabulary. This forms the basis of learning to read and to comprehend.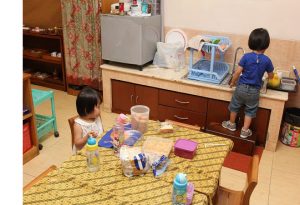 Your child's creativity will be enhanced through art activities, where they will learn to control their hand movements; and through music and singing, where they will learn many songs. Stories will be read daily to your child both individually and in groups using our extensive collection of books.
There is an outside area adjoining the classroom where your child will be able to exercise their gross motor skills through gardening and water play. The air is clean and healthy and they will benefit greatly from these outdoor activities. They will also have access to swings, slides and climbing frames.
Early Childhood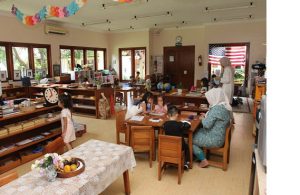 The Early Childhood classroom is made up of children from mixed ages ranging from 3 to 6 years old. This mixed age grouping gives an excellent opportunity for your child to interact with other children in a variety of ways.
Older children act as role models for the younger ones, resulting in an increased confidence and knowledge and giving the older child a sense of responsibility through being leaders in the class. This further enhances your child's self esteem.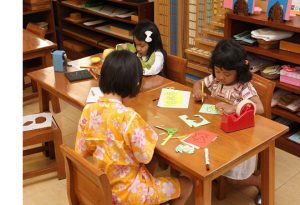 Our Early Childhood classroom allows your child to move, touch, manipulate and explore. It gives them the freedom to choose their own work without unnecessary interference from our teachers.
In this environment your child will learn independently based on their own initiative, which in turn builds their concentration and self discipline.
Younger children, on the other hand, are exposed to more advanced work through observing the older ones. This method ensures that your child can work at their own pace.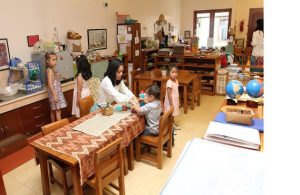 Therefore, each child's needs at different developmental stages are catered for at a time when they are sensitive to those particular areas. In classrooms, our teachers are constantly on the move, overseeing and supervising. Teachers may give lessons to a small group of children or to an individual child, but always they are mindful of the specific needs of your child.
Primary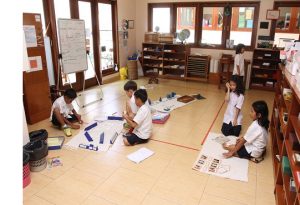 Children in our Primary class enter a different stage in their lives and development. They experience the much wider environments of Mathematics, Reading and Writing, and Life in general. Your child takes responsiblity for the care of their classroom and for their own learning. Our teachers guide and facilitate their learning in both interesting and intriguing ways.
Your child will develop enthusiasm for their school and for learning about the world in which they live. Firstly, the basic skills of Mathematics and Language, where your child use's Montessori materials to introduce various concepts.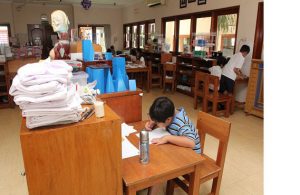 Secondly, our teachers recount narratives about how the Universe, Life and Civilization came into being. Through these narratives, the topics of Science, History, Geography, Geology, Biology, Zoology, Astronomy, Archaeology, Botany, Physics, Chemistry, and many others are covered.
Thereafter, your child will investigate individually, or in small groups. Through their own research they will develop skills of "how to use a library", "how to work computers and the Internet", and improve their communication abilities.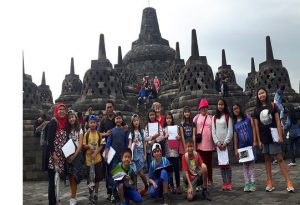 A day's schedule consists of uninterrupted classroom work in the morning, followed after lunch by activity sessions covering Physical Education, Dance, Drama, Music, Art, Bahasa Indonesia, Religious Studies, PSHE, cooking, or working with Computers.
There are also a wide range of other after school activities. Children at this age need to venture out into the wider environment beyond school. To facilitate this your child will go on field trips and work on local community projects, learning about their place and their responsibilities in our world.
Secondary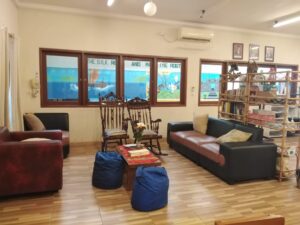 The adolescent classroom is a large fully equipped learning space, designed to incorporate Montessori's practical considerations for social organisation.
The classroom includes a comfortable carpeted (rug) area complete with bean bag and also sofa, where not only does social interaction takes place, but it is also a comfortable area where the students can engage in collaborative work together.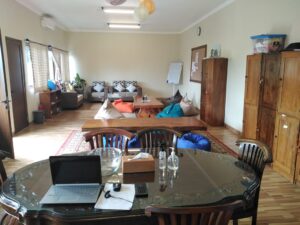 The adolescent classroom is also technologically prepared to meet the needs of adolescent, boasts with a small kitchen area , equipped with refrigerator, microwave and oven which students use to prepare their snacks and dining table to eat their meals together.
Other facilities within the school include a multifunction room, where children are able to participate in drama, dance and music; a superbly stocked library; a well-equipped IT room; a language room; an art studio and a  laboratory for the children doing science experiment.