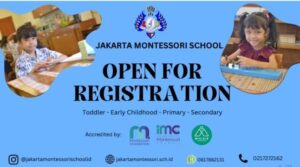 Our excellent conductive Montessori Curriculum emphasizes the learning process rather than the product of learning. Therefore our International standard Montessori trained teachers lead children in developing natural way to learn and play that compliments the individuals level of ability.
Accredited by Montessori Centre International in London, a Multi-sensory approach to learning invites children to touch, think and experience many life-enhancing elements, which combines with social, emotional, physical and mental development helps children to solve problems easier, leading to greater self-confidence and independence.
Situated in South Jakarta with it's clean, airy environment and eqquiped with the best in educational facilities, we strive to provide children with the right background as foundation for life in larger schools.